Our Highest Quality Standards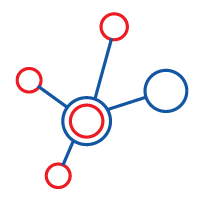 International Standard
All aspects of chemical testing and analysis in our lab are performed in accordance with the policies and procedures of an extensive Quality Assurance / Quality Control program and accredited to International Standards.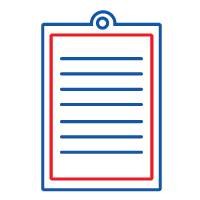 Accreditation
Our laboratories in the region are accredited to ISO/IEC 17025 accreditation that is awarded to all our laboratories is a recognition of our competent services and leadership in laboratory management and operations.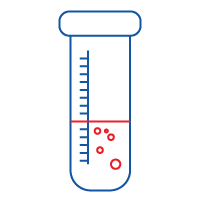 Latest Technology
Chemlab prides itself in being efficient, flexible, and providing accurate results that modern analytical laboratories require when it comes to analysis. We are constantly investing in new technology to simplify your analysis while achieving higher quality results.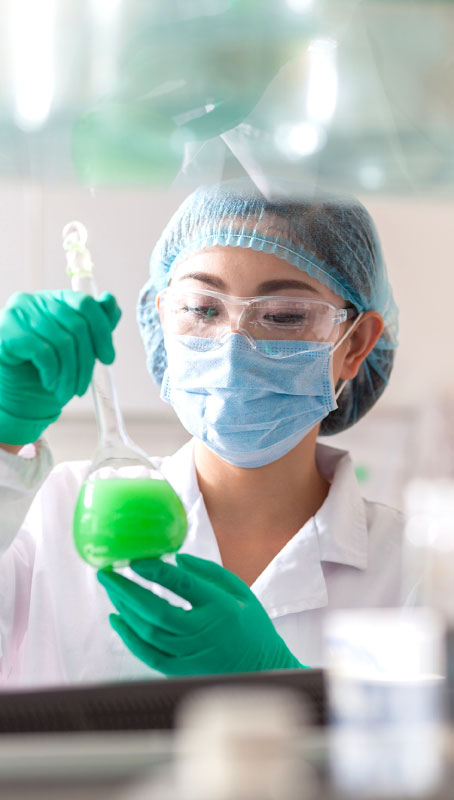 Our Services
From helping our customers ensure compliance in an increasingly stringent regulatory environment to leveraging expertise spanning thousands of market-specific applications, we are here to help. Chemlab has a group of experienced chemists, as well as young & dynamic technicians on our site. We assess, develop, and deploy workflows ranging from sample collection through the final report. Our profession ensures the performance and integrity of your applications are maintained.
---
Water & Environmental
Drinking water, portable water, Filtered Water,Ground water, industrial effluent, river, boiler, cooling tower water, sewage water, well water, Marine water, RO & DI water, mineral water, swimming pool water, residential water, rain water.
Testing Parameters:
Chemical Characteristics – e.g. dissolved oxygen, acidity (pH), salinity, nutrients and other contaminants, BOD, COD, Fluoride, Phenol, Oil & Grease, TSS, TDS, Radioactive test, Physical Characteristics – e.g. temperature, colour, sediment suspended in the water, Heavy metal - e.g: Mercury, Lead, Cadmium, Chromium, Cyanide, Arsenic, Copper, Manganese, Tin, Zinc, Boron, Aluminium, Selenium, Barium, Zinc, Nickel and etc, Pesticides & Organic testing - e.g. SVOC, VOC and Biological Characteristics – e.g. TPC, Yeast & Mould, E.Coli, Coliform, Salmonella, Pseudomonas Aeruginosa, Staphylococcus Aureus, Vibrio Cholerae, Legionella.
Food & Feed
Ready to Eat Food, Chilled / Frozen Food, Dried Food , Confectionery Product, Drinks and Beverages, Fruit and Vegetables, Seafood, Cocoa, Coconut & Palm Oil, Meat, Poultry & Feed, Sauce, canned food, Biscuit, Yogurt.
Testing Parameters:
Nutritional labelling, Heavy metal, Microbiology, Vitamins, Mineral Fat/FAME, Pesticide, Omega 3, Omega 6, DHA, EPA, Amino acid, Artificial colour, Preservative, Plasticizer (DEHP, DINP, DBP, BBP, DNOP, DIDP), Physical test: Moisture, Viscosity, Density GMO, Porcine DNA, Additives, Alcohol detection and Contaminants.
Microbiology
Type of Samples : Water ,Environmental ,Air ,Food ,Supplement ,Traditional Medicine ,Pharmaceutical ,Cosmetic ,Chemical ,Miscellaneous. Panel Laboratory –Ministry of Health Malaysia, Food Safety & Quality Division.
Testing parameters:
Total Aerobic Microbial Count, Total Yeasts & Molds Count, Bile- tolerant, Gram Negative Bacteria, Escherichia coli, Staphylococcus aureus, Salmonella, Candida albican, Pseudomonas aeruginosa, Coliform, Fecal Coliform, Swap and surface test, Bioaerosol air monitoring, Listeria spp, Listeria monocytogenes, Lactobacillus spp, Bacillus cereus, Vibrio spp, Vibrio cholera, Clostridium perfringens, Shigella, Enterobacteriaceae and Bifidobacteria Count.

Pharmaceutical & Supplement
Panel laboratory for NPRA – MOH under the category of traditional medicine products.Test Parameters: Heavy metal,Microb test,Assay,Active ingredient,Vitamins,Mineral,Physical test: Disintegration test, Hardness test.
Testing Parameters:
Heavy metal, Microb test, Assay, Active ingredient, Vitamins, Mineral Physical test: Disintegration test, Hardness test and Friability test, Uniformity of weight, Heavy metal, Contaminants, Packaging, Stability Studies – Real time, Accelerated, Shelf life test, Antibiotic test - Aflatoxin, Adulterant – Steroid and Melamine, Swap and Surface test.

Industrial hygiene, Blood & Urine
Urinary Biomarkers, Benzene metabolites (S-PMA, Phenol, Muconic acid), Mercury, N-Hexane metabolite (2,5 Hexanedione), Toluene (Hippuric acid), Nickel, Cyanide, Manganese, MEK & MIBK, Xylene, Chemical Health.
Testing Parameter:
Acetone, Alcohol, Heavy Metal ( Aluminium, Arsenic, Antimony, Cadmium, Chromium, Cobalt, Copper, Cyanide, Iron, Lead, Magnesium, Manganese, Mercury, Nickel, Silver, Zinc), Benzene, Toluene , Xylene, Styrene, Trichloroethylene, Urinary Biomarkers, Hexane, MEK, MIBK, Formaldehyde, TTMA, SPMA, Ethyl Acetate, Chemical Exposure, Chemical Health & Risk Assessment (CHRA), Noise Monitoring, Area Noise Mapping, LEV ( Local Exhaust Ventilation), Swap and Surface test, Bioaerosol air monitoring, Indoor Air Quality Monitoring (IAQ), Filter Analysis and Solvent & Chemical Analysis.

Miscellaneous
Radioactive, Moisture and Volatile Matter, Impurities, Peroxide Value, Acidity, Carotene Content, Unsaponifiable Matter, Soap Content, Saponification Value, iodine Value, Fatty Acid Composition, Ash, Total Fatty Matter, Total Saponifiable Matter.
Testing Parameters:
Geochemistry, Mining and Metal Analysis, Raw Material Analysis, Soil and Fertilizer Analysis ( NPK, micro nutrients, Potassium, CEC, Mg, Ca), Assay, Impurities Analysis, Plasticizer (DEHP, DINP, BBP, DNOP, DIDP, DBP), Petrochemical Analysis, Chemical Analysis, Energy, Green Product, Analysis, Polymer Analysis, TCLP & TTLC, Composition Analysis, Personal Care Analysis, Polymer Analysis.

Speak To Us
clhq@chemlab.com.my
wongyy@chemlab.com.my
We welcome all walks of life and would be happy to speak to you. Drop us an email or call us and we will get right back to you.